Purchase A Gift Card
Give the gift of movement. It's hard to fit it all…the falling down, the getting back up, and the chalk-dusted high fives—all into an envelope. But we made it happen. Bouldering Project gift cards are available for memberships, day passes, BP gear and more. You can purchase an electronic gift card below, or stop by our front desk to get an actual card, if you want to wrap it up! We offer gift cards in any amount, so if you want to give your friend a free day of bouldering or a one month membership…we've got you covered.
If you're looking to gift someone a specific product, we've built out custom gift card amounts for specific memberships and passes.
1 Month Prepaid Membership + Tax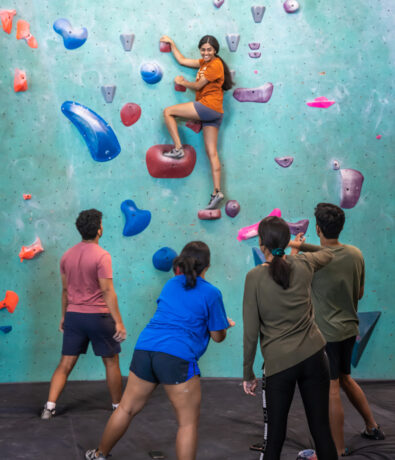 Unlimited Climbing, Fitness, & Yoga
Membership and passes includes access to all of climbing terrain, and fitness facilities, as well as our full schedule of climbing, yoga, and fitness classes.
Whether you're a seasoned climber, or totally new to the sport, we're here to help our visitors get started with rental shoes, and guided intro classes.
Apparel & Gear
Gift cards can be redeemed on BP Apparel & Gear. Check out our retail shops, located in each of our gyms to view our range of inventory. We also make sure to curate local offerings in each of our cities.
Community & Events
At Bouldering Project, membership isn't just about movement. Our spaces are built as community hubs to welcome and care for people. Through your gift, you'll be giving someone access to our full schedule of community events, parties, and co-working spaces.
Youth Programs
A lifetime of climbing starts with your gift. Kids are natural climbers and watching them discover climbing makes for a special part of the Bouldering Project experience. We have a wide range of programs, camps, and teams to facilitate our youth visitors.