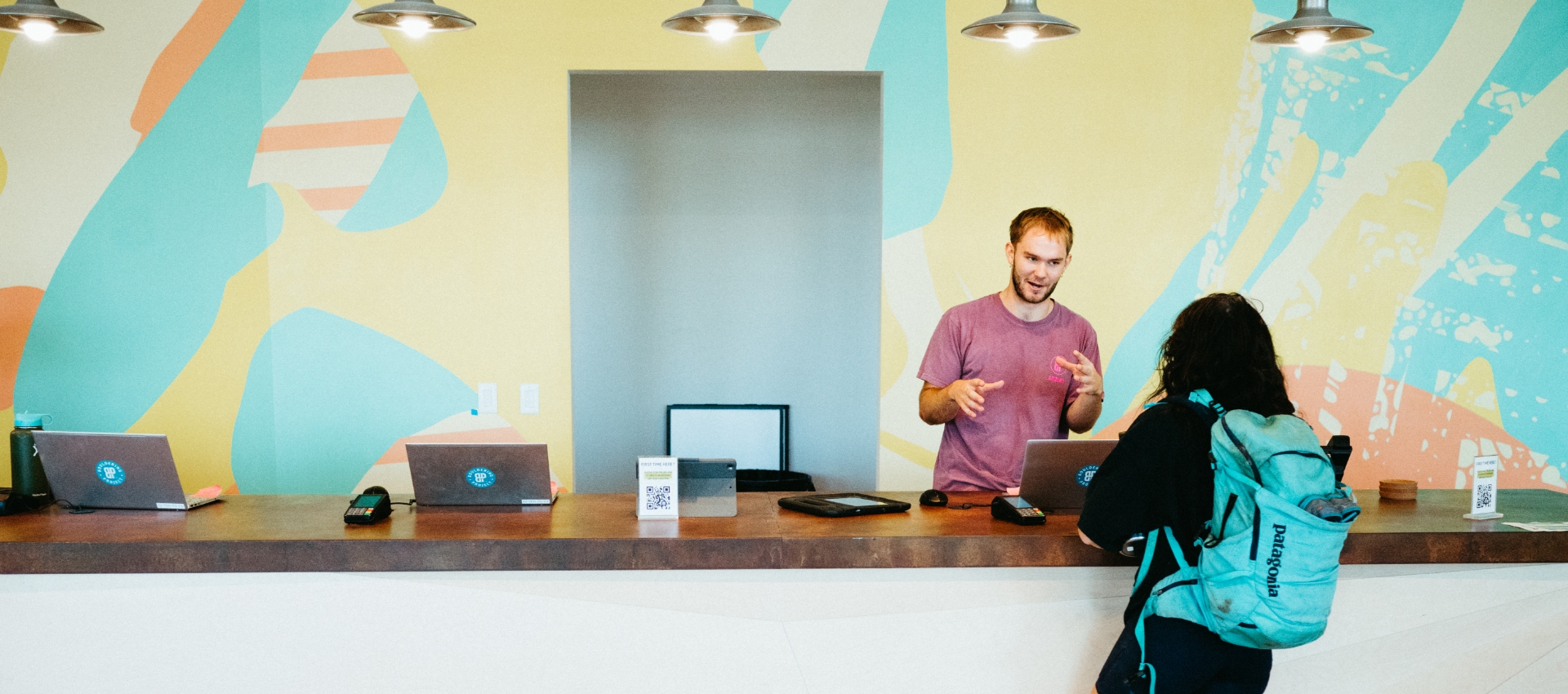 What to know
Your First Visit
Climbing, Movement, and Community
We know visiting somewhere new for the first time can be intimidating (especially a climbing gym), so we're here to help you out.  At Bouldering Project, we welcome everyone to our spaces: first-time climbers, yogis, kids, world class athletes, and everyone in between.
01
Get A Pass
Find the Bouldering Project gym near you, check hours of operation, and get your pass ready. Buy your pass online, which could be either a day pass or punch card—and once you get a feel for the gym, we can talk memberships.
02
Sign a Waiver
Everyone must sign a waiver. Yep, even if you aren't climbing. Minors must have a fully-completed waiver, signed only by a parent or legal guardian. No one else can complete a waiver on behalf of a minor. Save time by completing your waivers online here.
03
Jump into a Class!
Now that you're ready, sign up for a climbing, fitness, or yoga class to learn about our space and to get moving.
Bouldering is rock climbing without using ropes or harnesses. Typically, the climbs don't go too high off the ground. Our boulders are usually thirteen to fifteen feet tall. To climb outside, boulderers move crashpads under the climbs to pad the fall zone. In our gym, the entire floor is a giant, squishy pad.
Anyone can boulder! Bouldering is a physically demanding sport, but we're here to help. You don't need to have previous experience to start. We recommend children are at least 4 years old to start bouldering. All children need to be supervised by a parent or guardian while in the gym.
Wondering what to wear and what to bring on your first visit? We've got you covered. The only thing you need to boulder is a pair of climbing shoes and a chalk bag (to keep your hands dry). Technically you don't need a chalk bag but everyone uses them so we highly recommend it. Bring your own shoes and chalk bag or rent them from us. Rentals are free on your first visit.
Interested in bringing the whole crew? We'd love to have your group visit us. Click here to learn more about group activities and reservations.
We teach youth life skills through climbing, making them great climbers…and awesome humans. You can learn more about all the our youth programming here.
If you are planning to visit with youth, remember that bouldering is an exciting and fun sport—but it does come with risks. Any parent, guardian or chaperone responsible for a youth must maintain direct supervision over the youth during the entirety of their visit. An adult cannot supervise more than 2 youth at a time.
We have yoga, fitness, and climbing classes for everyone: all levels and all bodies! View our class offerings here.
My experience at Bouldering Project was transformational. It has helped to build my self esteem and give me a sense of community.
- Megan S.
//
Boston, MA.
It's always a fun experience, no matter your skill level. I've gone with friends who have never climbed and friends who have been climbing their whole life.
Such a good atmosphere, fun route setting, sauna, 10/10.
- Mitch J.
//
Salt Lake City, UT
Interested in visiting with a group?